Posted By /*php the_author_posts_link(); */?>Svet Mori le 1 mars 2021
Hello tout le monde ! J'espère que votre mois de Février s'est bien passé !
De mon côté, niveau écriture, ça n'a pas avancé… et niveau photo non plus : entre une crise de douleur au début du mois puis mon inscription sur Goodreads qui continue à bouffer tout mon temps pour y ajouter le contenu de mes cartons, je n'ai tout simplement pas eu l'occasion de faire autre chose ! Même mon rythme de lecture s'en est trouvé impacté…
Les lectures du mois
9 critiques, c'est pas mal, mais si l'on considère qu'il y a dedans une BD et qu'à une exception près, les 8 autres livres font tous dans les 150 pages, on se rend compte que j'ai lu à vitesse d'escargot.
Donc j'ai entamé le stock d'Harlequin vintage… et autant vous dire qu'il y a là-dedans du très bon (un peu), du bof et du carrément catastrophique, avec entre autres la pire lecture de ma vie.
Mais bon, on va plutôt parler des bons trucs hein. Donc il y a la fin d'Agape (si vous aviez lu les deux premiers), sinon, c'est Invitation à l'amour qu'il faut retenir !
La romance vintage ne porte pas spécialement chance pour le défi PKJ :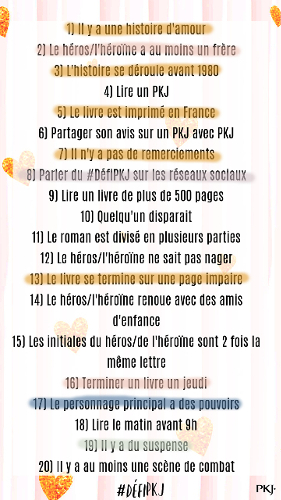 Le loot
Mon premier gros colis Harlequin en provenance de l'autre côté de l'Atlantique est arrivé. Il y a eu quelques craquages à côté, mais rien de déraisonnable.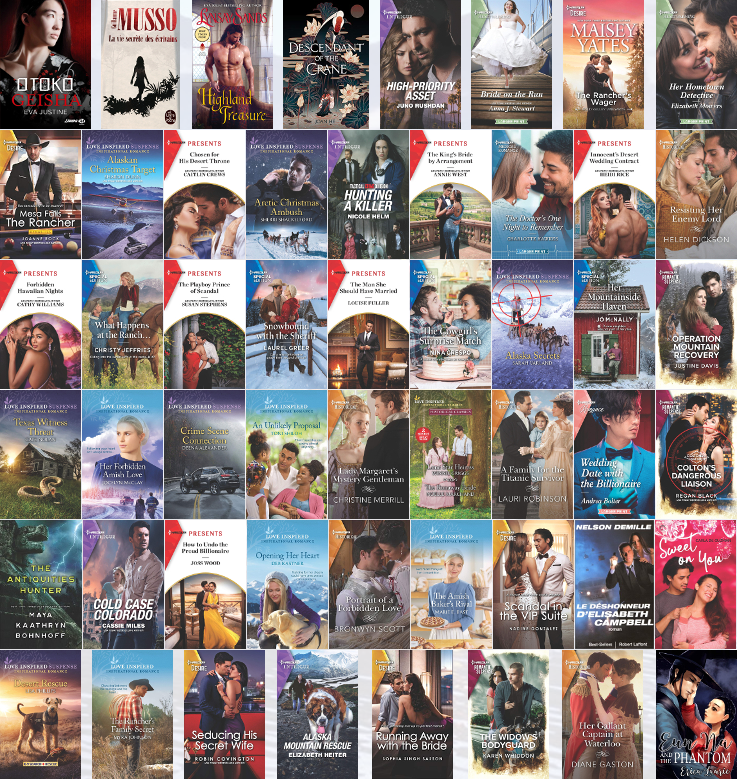 Les nouvelles séries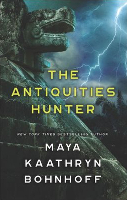 [VO] A Gina Miyoko Mystery, tome 1 – The Antiquities Hunter
363 pages
Peut être lu comme un one-shot
STOLEN HISTORY
Gina Miyoko is not your typical private eye. Armed with a baby blue Magnum, Gina spends her time sniffing out delinquent dads in the San Francisco Bay area and honing her detective skills.
When her best friend, Rose, an undercover agent, discovers there's a stalker on her tail, she hires Gina as a bodyguard. Someone must be trying to scare Rose out of testifying in an upcoming case on looted Anasazi artifacts. But when Gina tries to flush out the stalker, things take a far more dangerous turn.
Now, with a dead black market dealer and an injured Rose on her hands, Gina must follow the looters' trail toward a powerful antiquities collector in Cancun, Mexico. Equipped with an ingenious disguise and a teasingly coy persona to match, Gina tries to unearth the ones responsible for the pilfering and bloodshed — and still make it out alive.
Ça donne pas envie un résumé pareil ?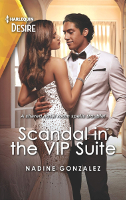 [VO] Miami Famous, tome 1 – Scandal in the VIP Suite
219 pages
Peut être lu comme un one-shot
TWO STRANGERS. ONE BED.
And a kiss as scorching as the Miami heat !
When Nina Taylor peeks into the luxury hotel suite that should have been hers, she's caught by the room's occupant, Julian Knight. The Hollywood bad boy quickly offers a compromise : Why not share ? Soon, the paparazzi is jumping to scandalous conclusions — and Julian and Nina share an incredible kiss. Good thing they're only booked for a week… because, boy, is she in trouble !
Une nouvelle série qui se passe à Miami ♥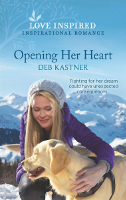 [VO] Rocky Mountain Family, tome 2 – Opening Her Heart
217 pages
She can handle the Texan threatening her plans…
But can she resist his adorable little girl ?
The Colorado mountain cabin is perfect for Avery Winslow's dream — a B and B for service dogs and their families. Except fast-talkin' Texan Jake Cutter wants the land for a luxury resort. Now Avery's fighting for her dream and her town. But Jake and his sweet little girl have already charmed Avery's favorite service dog… and her guarded heart might just be next.
La montagne, un doggo…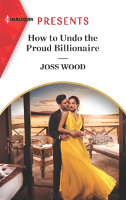 [VO] South Africa's Scandalous Billionaires, tome 1 – How to Undo the Proud Billionaire
216 pages
Peut être lu comme un one-shot
"If I kiss you,
there's no going back…"
Hosting South Africa's wedding of the year at his exclusive safari lodge is Radd Tempest-Vane's ticket to restoring his family's empire. As long as he finds a new florist, fast ! Brinley Riddell is the perfect candidate. She's also an immediate distraction.
For Brin, this lucrative job is her chance to be free of the family who never thought her good enough. Radd may be proud and strictly off-limits, but he's the sexiest man she's ever met ! Surely one impossibly steamy encounter won't upend their simple business deal…
L'autrice vivant elle-même en Afrique du Sud, on peut espérer un truc de qualité !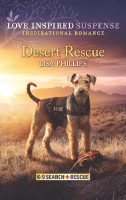 [VO] K-9 Search and Rescue, tome 1 – Desert Rescue
221 pages
Peut être lu comme un one-shot
With his K-9's help,
can he save the son he didn't know existed ?
Rescuing a kidnapped child is part of the job for search-and-rescue K-9 handler Patrick Sanders — but this time it's his son. Now Patrick and his furry partner must work with his high school love, Jennie Wilcox, to shield the little boy he just learned about. But with someone targeting them, will Patrick and Jennie survive to face their painful past and become a family ?
La nouvelle trilogie « brigades canines » est là !!!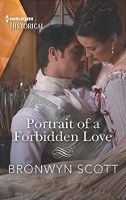 [VO] The Rebellious Sisterhood, tome 1 – Portrait of a Forbidden Love
280 pages
The Earl's heir
And the rebel artist
Artist Artemisia Stansfield has four months to prove herself to the Royal Academy of Arts. When she finds out that aristocratic art critic Darius Rutherford has been snooping in her studio, she's furious ! Sparks of anger turn into flames of desire, but one lapse in judgment could give Darius all the fuel he needs to ruin her, as a lady and as an artist ! Unless she trusts him enough to take the risk…
Une série de romance historique tournant autour de la peinture. Je ne pouvais pas ne pas la prendre !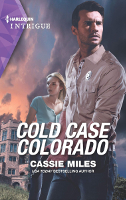 [VO] An Unsolved Mystery Book, tome 1 – Cold Case Colorado
250 pages
Peut être lu comme un one-shot
A COLD CASE.
A LOCKED-ROOM MURDER.
Vanessa Whitman moves into her eccentric uncle's remote castle to ghostwrite his memoir, seeing it as her chance to start over and escape a stalker. But then Sheriff Ty Coleman discovers a body in a locked room of the Colorado castle, transforming everyone in Vanessa's family into potential killers. On top of that, a twelve-year-old unsolved disappearance may hold the key to the murder. Can Ty protect Vanessa and discover the truth before the killer strikes again ?
CE RESUMÉ.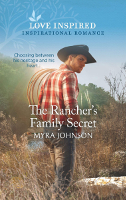 [VO] The Ranchers of Gabriel Bend, tome 1 – The Rancher's Family Secret
218 pages
Peut être lu comme un one-shot
Will a longtime family secret
keep them apart ?
Despite their family feud, Spencer Navarro is determined to help his neighbor, Lindsey McClement, when she comes home to save her family ranch. And Lindsey returns the favor by allowing him to house his foster rescue horses in her empty barn stalls. But when the generations-long strife threatens their forbidden friendship, Spencer must choose between a new love and his family.
Une histoire de familles rivales tout ce qu'il y a de plus classique… mais c'est justement ça qui donne envie !
Les one-shot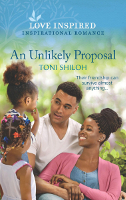 [VO] An Unlikely Proposal
220 pages
For two best friends,
marriage could be their greatest test yet…
Trinity Davis must not have heard firefighter Omar Young correctly. Did her handsome widowed best friend just suggest they get married ? Omar needs a mom for his adorable little girls, and it'll fix Trinity's financial woes. But saying "I do" isn't just business. Especially when the only vow they're in danger of breaking is their promise to not fall in love…
On sait comment ça finit ce genre d'arrangement… x)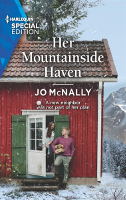 [VO] Her Mountainside Haven
283 pages
A NEW NEIGHBOR WAS NOT PART OF HER PLAN
IS THERE ROOM FOR ONE MORE IN HER CAREFULLY GUARDED WORLD ?
Jillian Coleman has carefully constructed a haven for herself, complete with therapy dog Sophie to ease her anxiety and panic attacks. But when intriguing developer Matt Danzer shows up asking for access to a road that runs through her land, Jillie finds her stand-alone resolve starting to crumble. Up till now, a predictable life was all she could hope for. But Matt made her realize playing it safe was not all it was cracked up to be…
Owi, un perso principal qui me ressemble \o/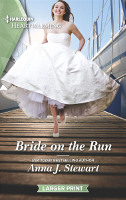 [VO] Bride on the Run
376 pages
Finding true love…
In the unlikeliest places !
Sienna Fairchild never imagined she'd be a runaway bride. Or that she'd stow away on a worn-down boat belonging to handsome tour operator Monty Bettencourt. Monty's used to navigating rough seas, but Sienna might overturn his whole life, and avoiding drama is tough in such close quarters ! If Sienna's sure she doesn't know what she wants, then why does running away feel so much like coming home ?
Une mariée en fuite et un bateau. N'en dites pas plus.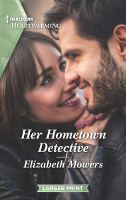 [VO] Her Hometown Detective
379 pages
Can he trust her…
With his heart ?
Detective John McTully is drawn to edgy newcomer Faith Fitzpatrick. So when the business owner is accused of a recent vandalism spree, he keeps an open mind. Tully knows he shouldn't get involved with his prime suspect, but a Fourth of July stakeout leads to romantic fireworks. With the townsfolk stoking his suspicions, can he believe in Faith's innocence… and trust his own heart ?
C'est pas vendu dans les collections romantic suspense mais ça y ressemble quand même un peu !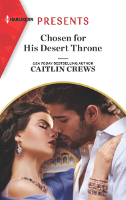 [VO] Chosen for His Desert Throne
217 pages
Chosen for convenience…
Bound by desire !
Sheikh Tarek's kingdom needs a queen. His country has been scarred by unrest, and discovering a beautiful prisoner in his palace puts the nation only closer to the brink of collapse. Until he realizes Dr. Anya Turner might just be the key he's looking for…
Anya can't believe the sheikh is now proposing a royal wedding ! But the desire that burns between herself and Tarek makes its own rules, and Anya finds herself unable to resist ! She might be queen, but will she ever be able to reach her husband's hardened heart ?
Je vais vous dire un truc : j'avais même pas lu le résumé avant de préco.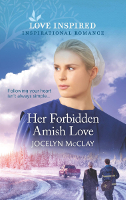 [VO] Her Forbidden Amish Love
219 pages
Choosing between her community…
and the man she still loves.
Five years ago, Hannah Lapp walked away from Gabe Bartel, crushing their dreams of a future together. She couldn't break her parents' hearts by marrying a Mennonite man and leaving the Amish community. Now Gabe is back as her town's new EMT. And Hannah's heart is on the line all over again, because this time she can't imagine letting him go…
Une romance interdite qui donne l'occasion d'en apprendre un peu plus sur deux communautés qui semblent assez proches d'un point de vue extérieur…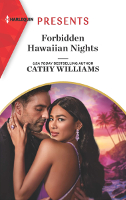 [VO] Forbidden Hawaiian Nights
217 pages
Once they give in to attraction…
… there's no telling how long it will burn !
For brooding tycoon Max Stowe, Hawaii is no vacation. He must track down his missing sister and take over running his island hotel until she reappears. His first task ? Enlisting the help of headstrong landscape gardener Mia Kaiwi…
Max is everything Mia shouldn't want — commanding and completely off-limits as her temporary boss ! But there's no escape from temptation working so closely together. And when Max declares his desire, it's up to Mia — dare she explore their connection, even if just for a few scorching nights ?
CETTE COUV OMG.
J'avais tellement hâte de l'avoir celui-ci !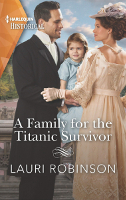 [VO] A Family for the Titanic Survivor
280 pages
From third class on the Titanic…
… to upper-class bride ?
When barmaid Bridget McGowen boarded the Titanic, she never could have imagined the crossing ahead of her. The resilient Irishwoman saves four-year-old Elsie, the niece of New York banker Karl Wingard. Swept into Karl's world, Bridget feels like a fish out of water, except for the quiet moments she shares with him. As her connection to Karl and Elsie grows, can she break free from the shackles of society so they can be a family ?
Alors non, ça ne se passe pas à bord du Titanic, mais *après* le naufrage.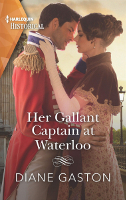 [VO] Her Gallant Captain at Waterloo
280 pages
From vicar's son
To captain of her heart !
Lady Helene Barnes travels to Brussels to bring her battle-seeking younger brother home, only to collide with Rhys Landon, her ex-fiancé ! Gone is the penniless vicar's son, now transformed into a combat-hardened captain. The spark still burns between them, but Rhys has a new love now — the army. Until, on the eve of battle, with Napoleon's troops advancing, the emotional turmoil of their past explodes into a night of passion !
Le cadre a l'air original !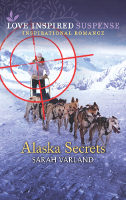 [VO] Alaska Secrets
221 pages
Investigating a cold-case murder
might get her killed.
When her first love, Seth Connors, is attacked in the Alaskan wilderness, former police officer Ellie Hardison knows the crime is linked to his sister's unsolved murder. This time, she won't stop until she finds the culprits — even if it means joining Seth undercover. With one last chance to find justice, success could bring Ellie and Seth back together… and failure could prove fatal.
Oui, ENCORE une histoire en Alaska, et c'est pas fini.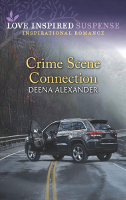 [VO] Crime Scene Connection
221 pages
Her writing was fiction,
until a killer made the danger very real…
A serial killer's imitating crime scenes from Addison Keller's bestselling novel, determined to make her the final victim. But with former police officer Jace Montana and his dog at her side, Addison might just be able to unmask the murderer. With time running out as the killer closes in, she must confront her past and unravel long-buried secrets… and hope they can all escape with their lives.
Une autrice, un ex-officier des brigades canines… que demander de plus ?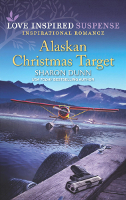 [VO] Alaskan Christmas Target
217 pages
With the Mafia on her trail,
Christmas on the run is her only choice…
With her face splashed across the news after she saves a little boy, Natasha Hale's witness protection cover is blown. Now caught in a blizzard at Christmastime with Alaskan State Trooper Landon Defries, she must rely on him to survive — not only hazardous weather but deadly hit men. Natasha needs a new identity… but can she leave behind the man she's come to trust ?
Voiiiiilà. On repart en Alaska.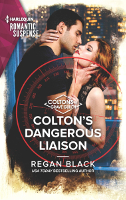 [VO] Colton's Dangerous Liaison
281 pages
THE CLOCK IS RUNNING OUT TO KEEP HER SAFE
CAN HE INTERVENE IN TIME ?
By-the-book police chief Melissa Colton prides herself on putting justice before all else. That means work first — and no passionate affairs. But she finds herself severely tempted when teaming up with hotelier Antonio Ruiz to figure out who's tracking her. As the case yields more questions than answers, Melissa and Antonio must resist their growing attraction… and capture the criminal targeting them !
Le résumé donnait tellement envie.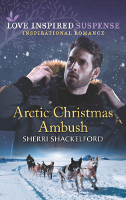 [VO] Arctic Christmas Ambush
221 pages
Caught between a killer on the loose
and a deadly snowstorm…
A man's been murdered, and the only witness is Alaska State Trooper Shane Taylor's ex, Kara Riley — a woman he's sure has been keeping secrets. Now Shane and Kara are snowbound during a dangerous winter storm — with the killer ! Shane's convinced this has to be tied to Kara's past, and he needs to find the truth…before they become a murderer's next victims.
… Eh oui, toujours l'Alaska.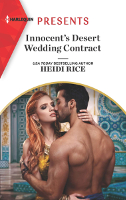 [VO] Innocent's Desert Wedding Contract
218 pages
A practical agreement…
An indisputable desire !
Sheikh Karim needs a wife in order to avoid royal retribution from his tyrant father. Orla Calhoun needs to save her family's legendary stud farm. The "no sex" clause of their contract should makes things simple… if they can contain their simmering chemistry !
Orla's rich-girl reputation belies years of hard work and her most protected secret : she's a virgin ! That's never been an issue, until the intense attraction between her and Karim refuses to subside. That attraction becomes unavoidable when duty calls Karim — and his bride — back to Zafar…
Là non plus, j'ai pas lu le résumé avant. Romance orientale = achat !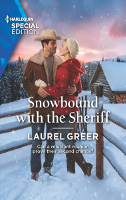 [VO] Snowbound with the Sheriff
280 pages
She returned home to heal her heart
But will her first love break it again ?
Humiliated after being outed as a whistleblower at work, Stella Reid returns home to Sutter Creek. She's been gone long enough and is determined to mend fences… and immediately comes face-to-face with the man who broke her heart : Sheriff Ryan Rafferty. Reluctant to trust again, Stella learns that Ryan's no longer a careless bad boy when a blizzard traps them together. But as she opens herself up bit by bit, can Stella find the happily-ever-after she was denied years ago — in his arms ?
Ça ça arrive un peu tard, mais ça fait partie des sorties de… fin Décembre !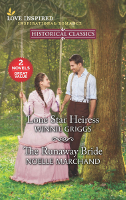 [VO] Lone Star Heiress / The Runaway Bride
571 pages
A groom to the rescue
Lone Star Heiress
Adventurous Ivy Feagan is headed to Turnabout, Texas, to claim an inheritance when an accident leads to an unexpected rescue by widowed schoolteacher Mitch Parker. But when town gossips target Mitch and Ivy's friendship, he proposes to save her reputation. Ivy doesn't want to marry for honor and doesn't need to marry for money. She'll only agree to a proposal made for love's sake !
The Runaway Bride
Leaving town for a fresh start, runaway bride Lorelei Wilkins never suspects her parents will send Sheriff Sean O'Brien — the only husband she's ever wanted — to bring her home ! After an innocent mistake leaves Lorelei and her reluctant rescuer with compromised reputations, marriage is their only option. Will this inconvenient groom and stubborn bride realize that only love can conquer all ?
Glissé dans mon colis en guise de rattrapage.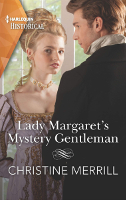 [VO] Lady Margaret's Mystery Gentleman
280 pages
Close quarters
Will reveal hidden truths…
Desperately hoping for a season to escape her overprotective brother, Lady Margaret convinces him to hire her a dancing master. David Castell is dashing, exciting and mysterious, yet his probing questions about her family raise Margaret's suspicions… And she discovers that her charming teacher is undercover investigating her brother for murder ! Margaret's determined to prove David wrong, but their irresistible attraction is disrupting both their plans…
Le petit côté romantic suspense historique a tout pour me plaire, en théorie.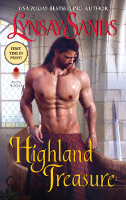 [VO] Highland Treasure
352 pages
After escaping from the English soldiers who attacked her home and imprisoned her in a dungeon, Lady Elysande de Valance is grateful for the rugged Scots who are escorting her to safety in the Highlands. Even with danger dogging their every step, she hadn't expected to welcome the strong comforting embrace of their leader, Rory Buchanan. They say he's a healer, but she finds the heat of his touch does so much more…
Let his brothers get married — Rory is too busy tending to the sick to be bothered with wooing a bride. But when he is tasked with accompanying a family friend's "treasure" to the Highlands, he is surprised to learn the treasure is a beautiful woman on the run — and even more surprised to discover bruises hidden by her veil. Rory makes it his mission to tend to her injuries and protect her, but the thought of losing her makes him realize that perhaps it is his heart that is most in need of healing…
Non, je l'ai pas acheté pour sa couv. Du tout.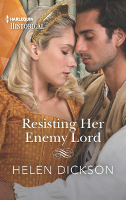 [VO] Resisting Her Enemy Lord
280 pages
A tumultuous journey
A tale of war, betrayal and passion…
Despite her unhappy marriage, Catherine Stratton had defended her husband's castle for six years while he was at war. Now widowed, she must travel with John, her late husband's cousin, who'd fought on the opposing side. Facing danger at every turn, she's stunned by the heat burning between them. Is this just lust, which will pass… or is this enemy lord a man she can trust with her life and her future ?
Les histo donnaient vraiment envie ces derniers mois.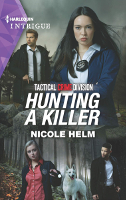 [VO] Hunting a Killer
249 pages
A PRISON BREAK
IS A JOB FOR TACTICAL CRIME DIVISION'S K-9 UNIT.
When K-9 handler Serena Lopez discovers her half brother's a fugitive from justice, she must find him — and his dangerous crew. It's a good thing that her partner is infuriatingly efficient and handsome lead agent Axel Morrow. But as smart and cunning as the duo may be, it's a race against time to catch the armed and dangerous criminals before they kill again.
BON. Qui dit brigade canine…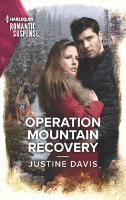 [VO] Operation Mountain Recovery
283 pages
HE'S SWORN TO PROTECT
… UNTIL IT GETS COMPLICATED.
After Deputy Brady Crenshaw rescues a confused woman from a near-fatal mountain accident, he's shocked at her confession. Even more bewildered when a determined dog urges him to shield her. Ashley admits she's afraid of powerful forces pursuing her. She may need more than protection. So as the lawman jeopardizes his career to hide her, Ashley starts to trust him and bond with the sly canine pushing them together. But exactly who is Ashley Jordan, really ? And who wants to silence her ?
Le doggo entremetteur, la montagne…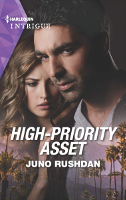 [VO] High-Priority Asset
251 pages
TO SAFEGUARD CALIFORNIA'S WITNESS PROTECTION PROGRAM, RECOVERING LEAKED INFORMATION IS THE TOP PRIORITY.
The safety of every person in California's Witness Protection Program rests in US marshal Dutch Haas's capable hands. So inserting himself into Isabel Vargas's life to get the drop on her criminal uncle is a no-brainer. Except his target is fiery and intelligent — and she quickly becomes his partner instead of his mark. With threats stacking up, will Isabel and Dutch be able to stop Isabel's past from catching up with her before it is too late ?
Ça c'est sorti y'a des plombes, mais comme Amazon ne me l'avait pas envoyé…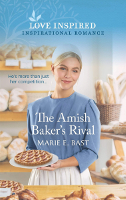 [VO] The Amish Baker's Rival
217 pages
She'll do anything to protect her bakery…
no matter the cost to her heart.
Amish baker Mary Brenneman is furious when handsome Englischer Noah Miller opens up a bakery right across from hers. Now she must win a local baking contest just to stay in business — and beat know-it-all Noah. But somewhere along the way, Noah and Mary's kitchen wars are quickly warming into something more…
… Eh oui, encore une histoire de pâtisserie. Et c'est pas fini.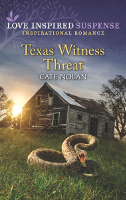 [VO] Texas Witness Threat
220 pages
She saw something she shouldn't have…
Assistant US Attorney Christine Davis is positive she witnessed a murder, but with no body, the police aren't convinced. Now someone wants her dead, and Texas Ranger Blake Larsen is the only one who believes her. For Blake, protecting Christine must stay more important than their growing feelings for each other. But can he keep her safe from an unknown enemy who wants her silenced ?
A la base je ne l'avais pas sélectionné, mais…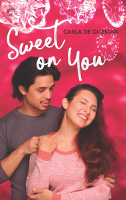 [VO] Sweet on You
332 pages
All's fair in love and prank wars
For barista and café owner Sari Tomas, Christmas means parols, family and no-holds-barred karaoke contests. This year, though, a new neighbor is throwing a wrench in all her best-laid plans. The baker next door — "some fancy boy from Manila" — might have cute buns, but when he tries to poach her customers with cheap coffee and cheaper tactics, the competition is officially on.
And Baker Boy better be ready, because Sari never loses.
Foodie extraordinaire Gabriel Capras wants to prove to his dad that his career choice doesn't make him any less a man. The Laneways might not be Manila, but the close-knit community is the perfect spot to grow his bakery into a thriving business. He wasn't expecting a gorgeous adversary in the barista next door, but flirting with her makes his heart race, and it's not just the caffeine.
It's winner takes all this Christmas. And more than one competitor might just lose their heart for the holidays.
Encore une guerre entre voisins autour de la bouffe. Et ça se passe à Noël.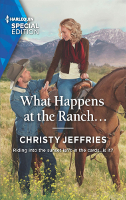 [VO] What Happens at the Ranch…
282 pages
THEIR ATTRACTION IS ANYTHING BUT BY THE BOOK.
Looking after journalist Tessa King should have been a simple assignment for Secret Service agent Grayson Wyatt. But a family tragedy, and a social media faux pas, forces the vice president's famous daughter to hide out at her family's Wyoming ranch — and forces Grayson to play cowboy to blend in. Their attraction breaks every protocol — and threatens to expose Tessa's deepest secret. Worse, the media's chasing a story that could put everything the couple is fighting for at risk…
Ça aussi ça ressemble plus à du romantic suspense qu'à une contemporaine classique.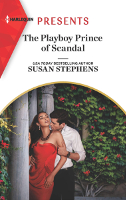 [VO] The Playboy Prince of Scandal
218 pages
His innocent enemy…
… could be his ultimate undoing !
Prince Cesar will never forgive Sofia Acosta for the article branding him a playboy ! But to avoid further scandal, he has no choice but to invite her to his lavish banquet in Rome — where he's confronted by her unexpected apology and the very obvious electricity !
Sofia was blackmailed into writing that article. She'll risk her hard-fought career to make it right. But surrendering to undeniable temptation wasn't part of the plan ! Because that means putting her trust in the man behind the outrageous reputation…
Un pitch qui sort des sentiers battus, surtout dans la collection !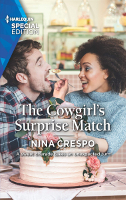 [VO] The Cowgirl's Surprise Match
280 pages
DEARLY BELOVED, WE ARE (NOT) GATHERED TOGETHER…
Maid of honor Zurie Tillbridge has been working secretly with best man Mace Calderone to plan her cousin Tristan's wedding to a well-known actress. To keep their wedding plans from leaking to the press, Zurie and Mace must pretend they are the ones getting married. Cake tasting and flower arranging seem like harmless fun… until wary workaholic Zurie realizes she's feeling something real for her fake fiancé…
Un fake dating qui a l'air super chouette.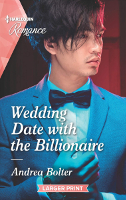 [VO] Wedding Date with the Billionaire
252 pages
Two worlds collide…
… at the altar !
Best man Kento Yamamoto and maid of honor Erin Barclay are thrown together at a luxury wedding years after their heartbreaking split. Now the fire between them is set ablaze once more. Tech billionaire Kento's no longer the penniless student Erin's controlling parents snubbed. Can she finally find the courage to break free from their hold ? And could a cunning recoupling of convenience pave the way to something unexpected but breathtakingly real ?
Ça semble tout choupi.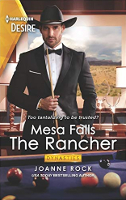 [VO] The Rancher
216 pages
HIS SECRETS ARE SAFE WITH NO ONE,
especially the woman who sets him on fire…
Ranching tycoon Miles Rivera has always kept the secrets of Mesa Falls Ranch under wraps — until desire trumps good sense. Because when he catches social media star Chiara Campagna snooping during a charity gala, he doesn't kick her out — he sleeps with her ! Can he trust the stunning influencer as the tangled web of desire and deception ensnares them both ?
Là encore ça semble vraiment original !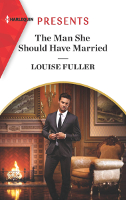 [VO] The Man She Should Have Married
216 pages
The Scottish billionaire is back.
Are they ready to rewrite the past?
Breaking her engagement to Farlan Wilder was the hardest decision Lady Antonia Elgin had to make, but their love simply wasn't built for reality. Now, thanks to her irresponsible parents, she's made her second-hardest decision : renting out their beloved Highland manor. Worse still is the realization that Farlan is staying there !
Famed movie director Farlan has come a long way from the penniless boy Nia rejected. But their reunion proves there's one thing he'll never be able to relinquish — their dangerously electric connection !
Pour le cadre x)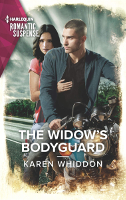 [VO] The Widow's Bodyguard
283 pages
SHE BROKE HIS HEART.
WILL THE TRUTH SHATTER HERS ?
When Eva Rowson left her motorcycle gang life behind her, Jesse Wyman chose the club over her. Now that he's been hired to protect Eva from vengeful death threats, their reunion is fractious at best. Sparks fly between the widow and her biker bodyguard, but will passion survive when Eva reveals her secret — and discovers who her protector really is ?
La couv ne donne vraiment pas envie, contrairement au résumé…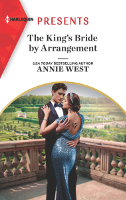 [VO] The King's Bride by Arrangement
217 pages
His promised queen's secret :
He's the only man she's ever loved !
Princess Eva's always known her long-standing betrothal to King Paul of St. Ancilla is a political match. That doesn't mean she hasn't privately craved more ! Paul ending their engagement is heartbreaking confirmation he'll never feel the same.
Paul's rebuilt his country after his father's destruction. His ultimate act of kingship is releasing Eva from their convenient arrangement. Until a scandalous photo requires them to continue their betrothal… and an explosive kiss has Paul questioning everything he thought he knew about his royal bride !
Une romance royale qui paraît tellement prometteuse !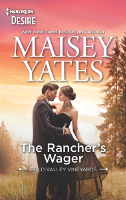 [VO] The Rancher's Wager
215 pages
THIS WEALTHY RANCHER HAS PLACED HIS BET…
And it's winner takes all !
No one gets under Jackson Cooper's skin like fellow ranch owner Cricket Maxfield. Now, facing off at a charity poker game, the stakes get personal. Jackson finds himself on the losing end… And paying up means being the ranch hand at Cricket's beck and call. In close quarters, tempers flare — and the fire between them ignites into a passion that won't be ignored…
Quand une partie de poker dégénère x) Rien que pour cette amorce complètement barrée, ça donne envie.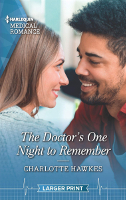 [VO] The Doctor's One Night to Remember
256 pages
A night to remember
A man she'll never forget !
After her failed engagement, a relationship is the last thing on junior doctor Isla Sinclair's mind. She's focused on her forthcoming new life, working aboard a prestigious cruise ship. But before she even reaches the gangplank, she meets Nikhil… Their connection is unlike anything Isla has experienced before ! But Nikhil is clear. One — unforgettable ! — night is all he can offer… leaving Isla wholly unprepared for their unexpected reunion aboard ship !
Bateau de croisière ♥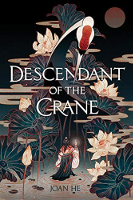 [VO] Descendant of the Crane
404 pages
TYRANTS CUT OUT HEARTS. RULERS SACRIFICE THEIR OWN.
Princess Hesina of Yan has always been eager to shirk the responsibilities of the crown, but when her beloved father is murdered, she's thrust into power, suddenly the queen of an unstable kingdom. Determined to find her father's killer, Hesina does something desperate : she enlists the aid of a soothsayer – a treasonous act, punishable by death… because in Yan, magic was outlawed centuries ago.
Using the information illicitly provided by the sooth, and uncertain if she can trust even her family, Hesina turns to Akira – a brilliant investigator who's also a convicted criminal with secrets of his own. With the future of her kingdom at stake, can Hesina find justice for her father ? Or will the cost be too high ?
Depuis le temps qu'il traînait dans ma wishlist, j'ai fini par l'en faire sortir x)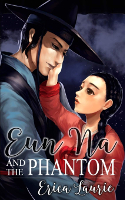 [VO] Eun Na and the Phantom
289 pages
Eun Na is working hard to help her father pay off a debt to a merciless lord when she meets two very different men by chance. One is a well-meaning noble who doesn't believe in magic. The other : a mysterious stranger who is forced to take the ethereal form of a ghost each night.This magical story, inspired by a Korean folktale, is set in a fictional world based on Joseon era Korea.
Découvert via les posts de Jeannie Lin sur les promos des collègues.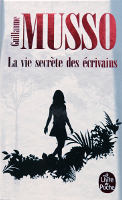 La vie secrète des écrivains
369 pages
« Tout le monde a trois vies : une vie privée, une vie publique et une vie secrète… »
Gabriel García Márquez
Après avoir publié trois romans devenus cultes, le célèbre écrivain Nathan Fawles annonce qu'il arrête d'écrire et se retire à Beaumont, une île sauvage et sublime au large des côtes de la Méditerranée.
Vingt ans après, alors que ses romans continuent de captiver les lecteurs, Mathilde Monney, une jeune journaliste suisse, débarque sur l'île, bien décidée à percer son secret. Commence alors entre eux un dangereux face à face, où se heurtent vérités occultées et mensonges assumés, où se frôlent l'amour et la peur…
Vu passer en photo sur Twitter. J'ai craqué illico.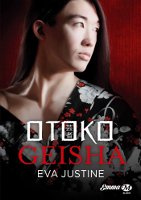 Otoko Geisha
263 pages
Un homme geisha a-t-il le droit d'être amoureux ?
Élevé dans une maison des plaisirs, Mikio est un otoko geisha. Rompu aux arts de la sensualité, de l'écriture, du chant et de la conversation, il aspire plus que tout à s'élever dans la société nippone. Entrer au service du seigneur Akana Fujiwara no Akimitsu lui ouvre le chemin vers la reconnaissance. Mais il lui faudra se soumettre à tous ses désirs, même les plus vicieux. Pris au jeu de la soumission, le jeune homme apprendra à aimer et respecter cet étrange maître… jusqu'à ce qu'il fasse la rencontre de Kaori, le frère jumeau de son seigneur. Troublé au plus profond de son âme, Mikio suivra ses sentiments en un tracé sinueux.
Entre l'art de la vie japonaise au XVIIIe siècle, les délices d'un voyage au palais impérial, et les ravages d'un tremblement de terre, il affrontera avec honneur toutes les épreuves mises sur le chemin de son bonheur. Mais sera-t-il capable de décider quel homme emportera son coeur ?
Traînait dans ma shopping list depuis… bah sa sortie en fait, c'était un des plus vieux trucs à y être. Comme il en restait plus que deux…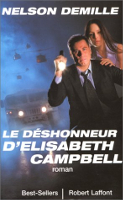 Le déshonneur d'Elisabeth Campbell
420 pages
Le cadavre d'une jeune femme nue, selon toute vraisemblance victime d'un viol particulièrement sadique, découvert au beau milieu d'une base militaire, voilà qui fait désordre… Surtout quand la jeune femme en question, le capitaine Campbell, est l'un des éléments les plus brillants et prometteurs de l'armée américaine, et, de surcroît, la fille du général qui dirige la base…
Soucieuses de donner à ce meurtre le moins de publicité possible, les hautes instances militaires confient l'enquête à l'officier Brenner, avec l'ordre de résoudre l'affaire avant que le FBI ne s'en empare. Il a tous les pouvoirs, y compris celui d'arrêter des officiers supérieurs si nécessaire. L'honneur de l'armée est en jeu.
Et bien plus encore que Brenner l'imagine… Il découvre bientôt que la victime, si convenable en apparence, avait séduit presque tous les officiers de l'entourage de son père. Chacun d'entre eux a pu vouloir sa mort…
Filé par ma mère qui vidait ses étagères.
Verdict : c'était très sympa, même si, ayant vu le film il y a quelques années, je n'ai pas eu la moindre surprise.
Les tomes de séries suivies mais pas-encore-commencées
(sur lesquels j'ai donc pas grand-chose à dire)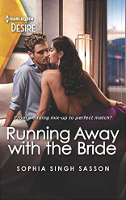 [VO] Nights at the Mahal, tome 2 – Running Away with the Bride
217 pages
Peut être lu comme un one-shot
STOP THE WEDDING ! STEAL THE BRIDE !
And fall for a perfect stranger ?
Billionaire Ethan Connors vows to stop his ex's wedding so they can be together. But crashing the wrong nuptials and spiriting away the wrong wife-to-be is more than he bargained for ! Divya Singh is beautiful, talented, passionate… and from a traditional Indian family who won't accept this usurper as a son-in-law. Can their unexpected relationship stay the course or will Divya run yet again ?
Donc faut attendre LONGTEMPS entre les tomes.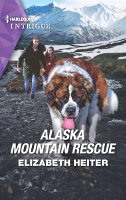 [VO] A K-9 Alaska Novel, tome 2 – Alaska Mountain Rescue
251 pages
Peut être lu comme un one-shot
CATCHING A KIDNAPPER TAKES TEAMWORK
…AND A ST. BERNARD.
Alanna Morgan was raised in remote Alaska by a couple who called themselves her parents – not kidnappers. A jailbreak brings her face-to-face with the past she wants to escape and on a collision course with the woman who stole her childhood. Alanna can't let other helpless victims be abducted and sets out with Chance, a therapy St. Bernard, by her side. But Desparre rookie police officer Peter Robak has other plans for the civilian investigator. Together, in the mountain wilderness in frigid temperatures, criminals aren't the only threat they face. A wary alliance and a rescue dog will have to be enough to keep them alive and to catch a desperate fugitive.
Le tome 1 est contenu dans le recueil Valiant Tracker.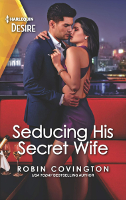 [VO] Redhawk Reunion, tome 2 – Seducing His Secret Wife
218 pages
Peut être lu comme un one-shot
A WIFE IS THE LAST THING HE WANTS…
And the one thing he needs.
Justin Ling knows a steamy Vegas tryst with his best friend's little sister is reckless. And an impromptu wedding ? Disastrous ! Luckily, the tech entrepreneur knows how to pivot. Being married to Sarina Redhawk is just what he needs to convince his family and corporate investors his notorious playboy days are behind him. But will his arrangement with the strong-willed beauty backfire ?
La suite est teasée mais on a pas encore de date.
Côté photo…
… j'ai rien foutu, voilà, c'est dit.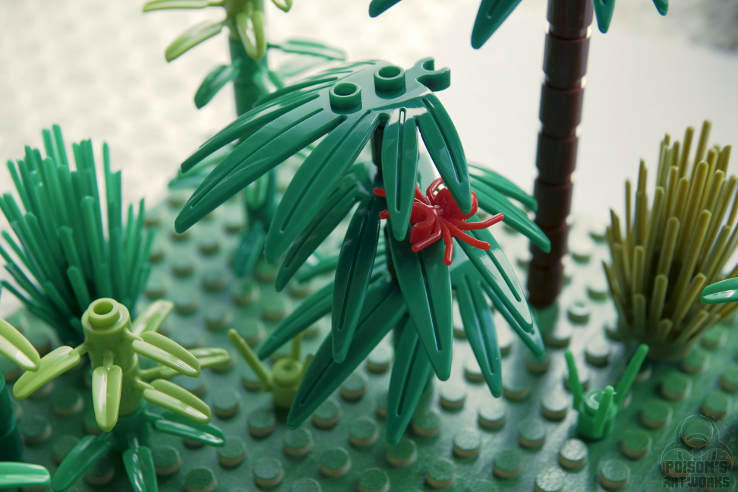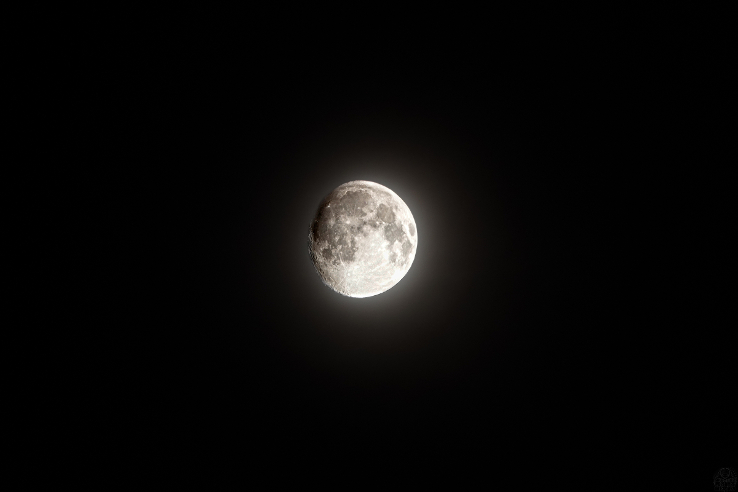 Côté dolls…
Il y a eu des arrivées ce mois-ci !

… mais je n'ai pas vraiment pris le temps de faire des photos dignes de ce nom…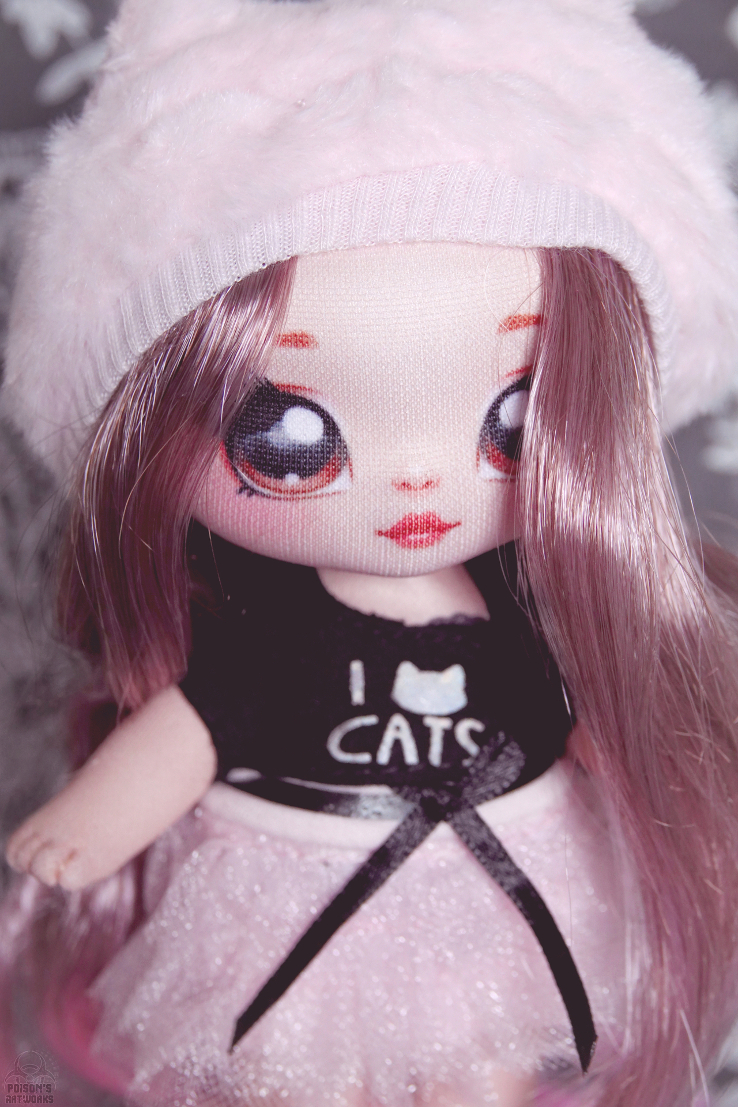 … à l'exception de Sakura Miku.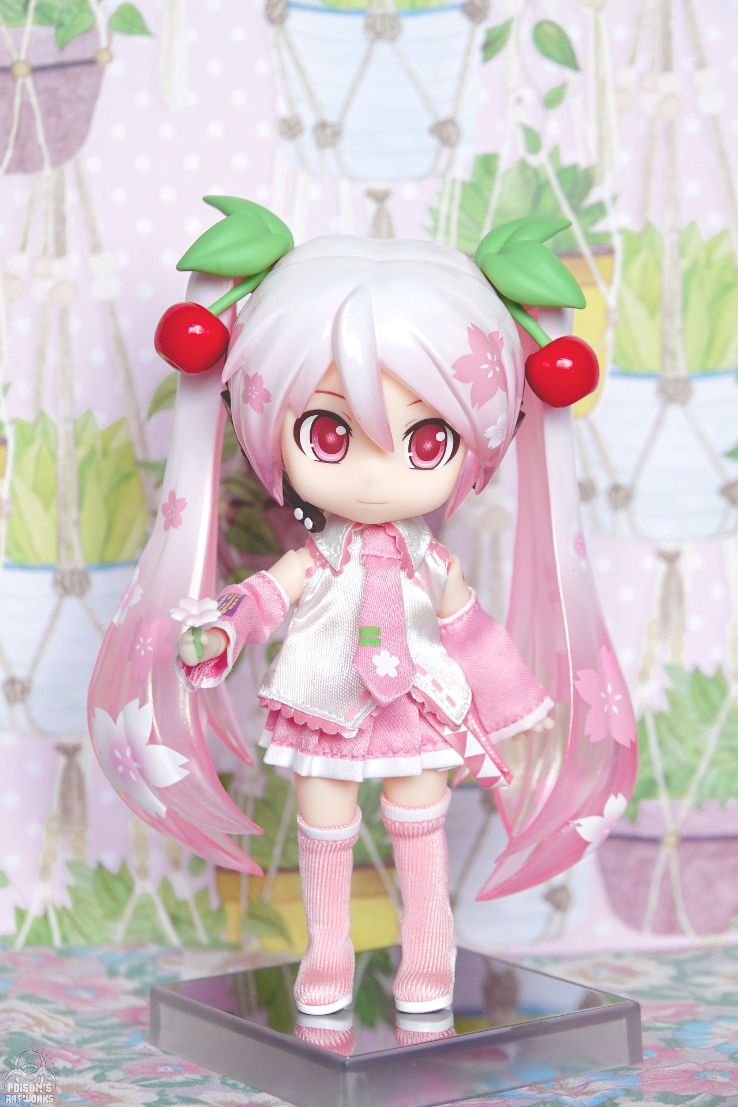 Valentine's Gift, sur Flickr
Côté dessin…
… je poursuis mon défi bien qu'ayant pris du retard. Axel et Calliandra, pourtant « faciles », sont foirés, par contre Azurite, Caithlinn et surtout Beryl et Bouclettes sont, contre toute attente, réussies.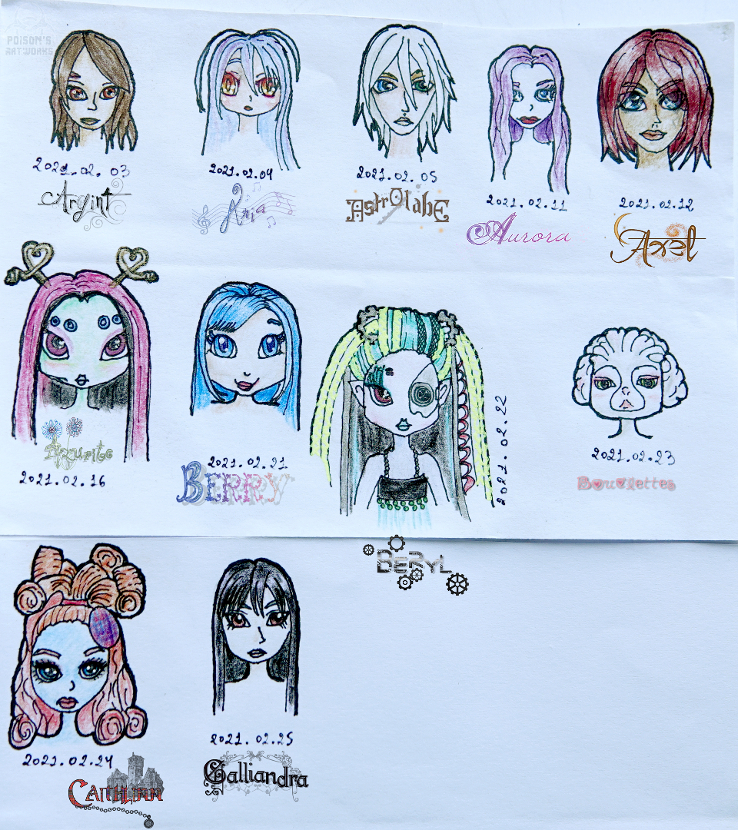 J'ai également dessiné une Na Na Na Surprise que je n'ai hélas pas réussi à récupérer ainsi que ma nouvelle obsession du moment :